The NorthEast ComicCon & Collectibles Extravaganza has consistently provided great value for admission by offering a diverse array of wicked cool vendors and exhibitors with a mix of vintage, modern, art and oddity along with lots of entertainment included.
The show opens at 4:00 pm on Friday March 15 with early birds admitted at 3:30, with the artists, and celebrities, and vendors room open until 8:00 pm also including gaming, kids activities and cosplay. The entire schedule is available online.
The entertainment included begins at 4:30 as author and video personality Johnny C kicks off the Panels with the CACN Creator Meet-Up. "Meet as many like-minded Creative folks as possible. Meet that next great collaborator that can help you make your ideas to the next level: Reality," says Johnny C of the Creator After Con Network (CACN). "This gathering can help you put you on the path to going Pro, but in the least help you meet like minded creative individuals with a motivation and drive to do more. Artist Bring your Portfolios, Writers Bring Samples, Everyone bring your Business Cards for this fun, social event."
Johnny hosts numerous activities over the weekend including the ComicsCon Battle Royale, a competition of amateur and professional stand up comedians for cash prizes beginning with the Friday preliminaries at 5:00 and 6:30 pm with the first semi-final at 7:45 pm.
Friday will also feature a performance by Tony Wilson, known as the Young James Brown, a protege of James Brown performing in the Courtyard at 6:00 pm. An impersonator beyond belief, Tony is presented at NEComicCon by the Regent Theatre in Arlington MA, where Tony regularly does a full show.
After the show floor closes the Friday night concert afterparty fun continues in the courtyard where Farscape star Gigi Edgley performs songs backed up by musicians Mick & Derek Lawless of the Reckless Hearts, followed by Fan Karaoke with Gigi until 10:00 pm. Admission to the concert afterparty is included in Friday and weekend admissions.
Saturday's entertainment included begins at 10:00 am with early birds entering at 9:30, with the exhibitors, artists and celebrities rooms open until 6:00 pm. Daytime entertainment Panels include a Q&A with Farscape star Gigi Edgley, a Q&A with comedian and voice actor Gilbert Gottfried, comedian Mark Gallagher's Fraudio Commentary live podcast recording and Johnny C's Sketch Off.
Cosplay activities include the Create-A-Character Costume contest, Cosplay with a Back Story, the Kids Costume parade and Onstage pose-offs, plus photo ops with the Flying Ford Anglia from the Harry Potter Movies and Puppets from the Bill Diamond Collection including Audrey Two, Mike from Monsters Inc and original Muppets .
Comedy competition as day two of the ComicsCon Battle Royale rages on with cash prizes to the daily and weekend winners as pros and amateurs compete for the laughs and the audience is the judge.
On the Courtyard stage, we highlight young performers and songwriters who add their fandom love to their musical styles and we proudly present Tiffany Hulse and Kate Eppers Saturday afternoon. Another performance by Tony Wilson graces the Courtyard stage.
Also included in admission all weekend is mask making workshops with master mask maker Eric Bornstein, as he explains how to craft for parades, theatre or cosplay.
Kim Luiso works with children in our Kidz area, teaching crafts and creative play with parental supervision all weekend. The Game Underground provides vintage and modern gaming for all ages.
Kadrolsha Ona, Queen of the Paranormal, will be joined by other members of her Paranormal News Network broadcasting from the event, along with sharing stories with fans of the paranormal.
Awesome artists like Joe St. Pierre (Spider-Man), Keith Champagne (JLA, Stranger Things), Guy Gilchrist (Nancy) and others will be meeting fans all weekend.
Although the exhibitors, artists and celebrities pack it in at 6:00 pm, the fun continues with a special Saturday night performance at 6:30 pm by Roger Kabler, The Spirit of Robin Williams, filming a live concert segment for the upcoming movie "Being Robin," stand up comedy that needs to be seen and heard to be believed.
The fun continues as Nicholas Brendon, Xander from "Buffy The Vampire Slayer" hosts a special VIP reception with Karaoke with fans Saturday night starting at 8:30.
And in the Courtyard, the Concert Saturday night begins at 7:00 pm with the instru-mental surf sock n roll of Tsunami of Sound, followed by the Kaiju Hard Rockin Rock n Roll of GWELL-O in fun craziness. Boston's favorite sons, The FOOLS close the evening fun with a "World Dance Party" singing their hit "Life Sucks and Then You Die" and everyone sings along.
Each day we also feature Careers in the Creative Arts sessions. Sunday panels include Ann Robinson, star of the original 1953 film "The War of The Worlds" and join Chris Rankin aka Percy Weasley to learn how to use a magic wand in a Harry Potter film, with assistance from OrchardWorks Magic Wands, and many young wizards who may wish to participate onstage with Chris.
Tickets and VIP experiences on sale now at NEComicCons.com
Entertainment Included in the Fun at NEComicCon March 15-17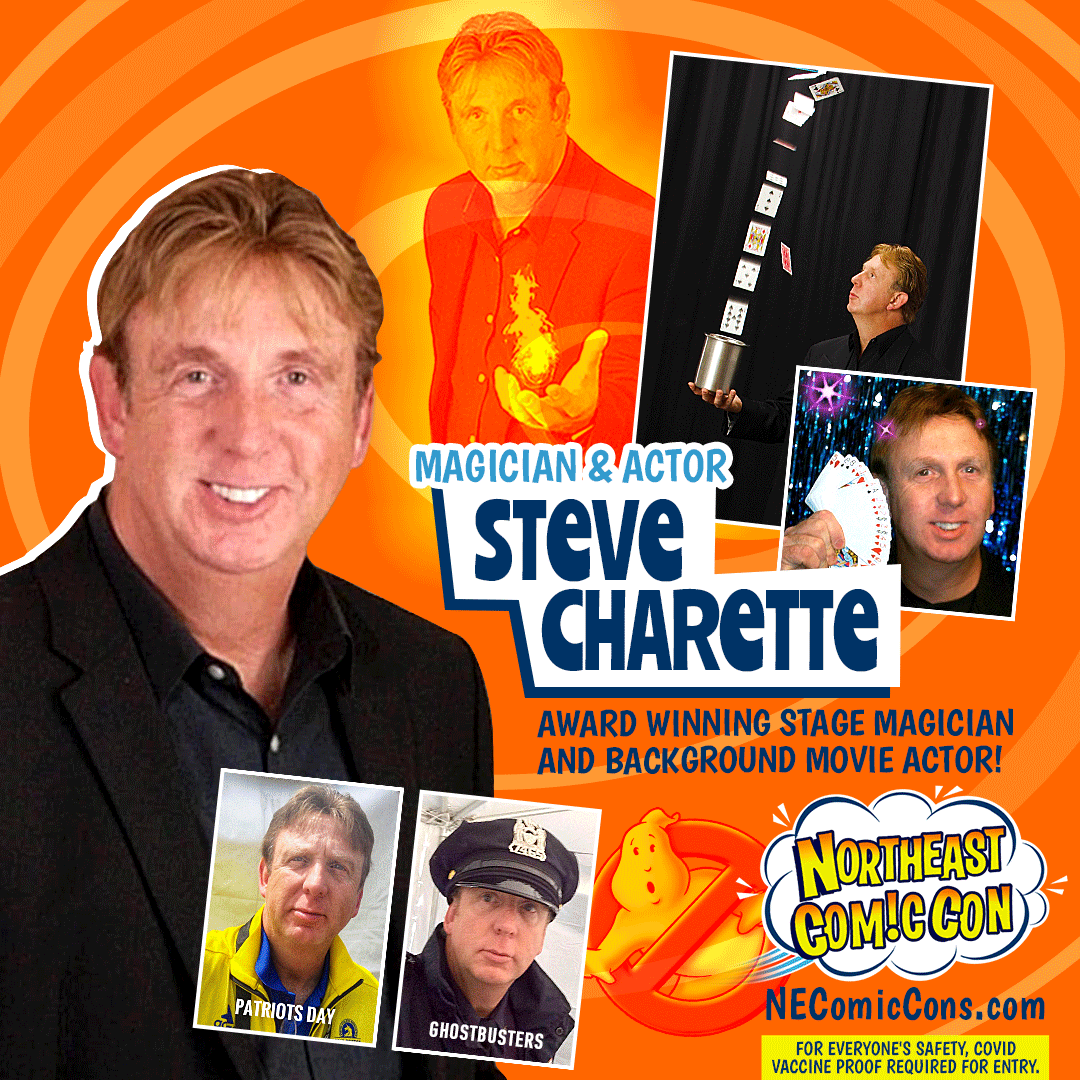 STEVE CHARETTE Magician and Actor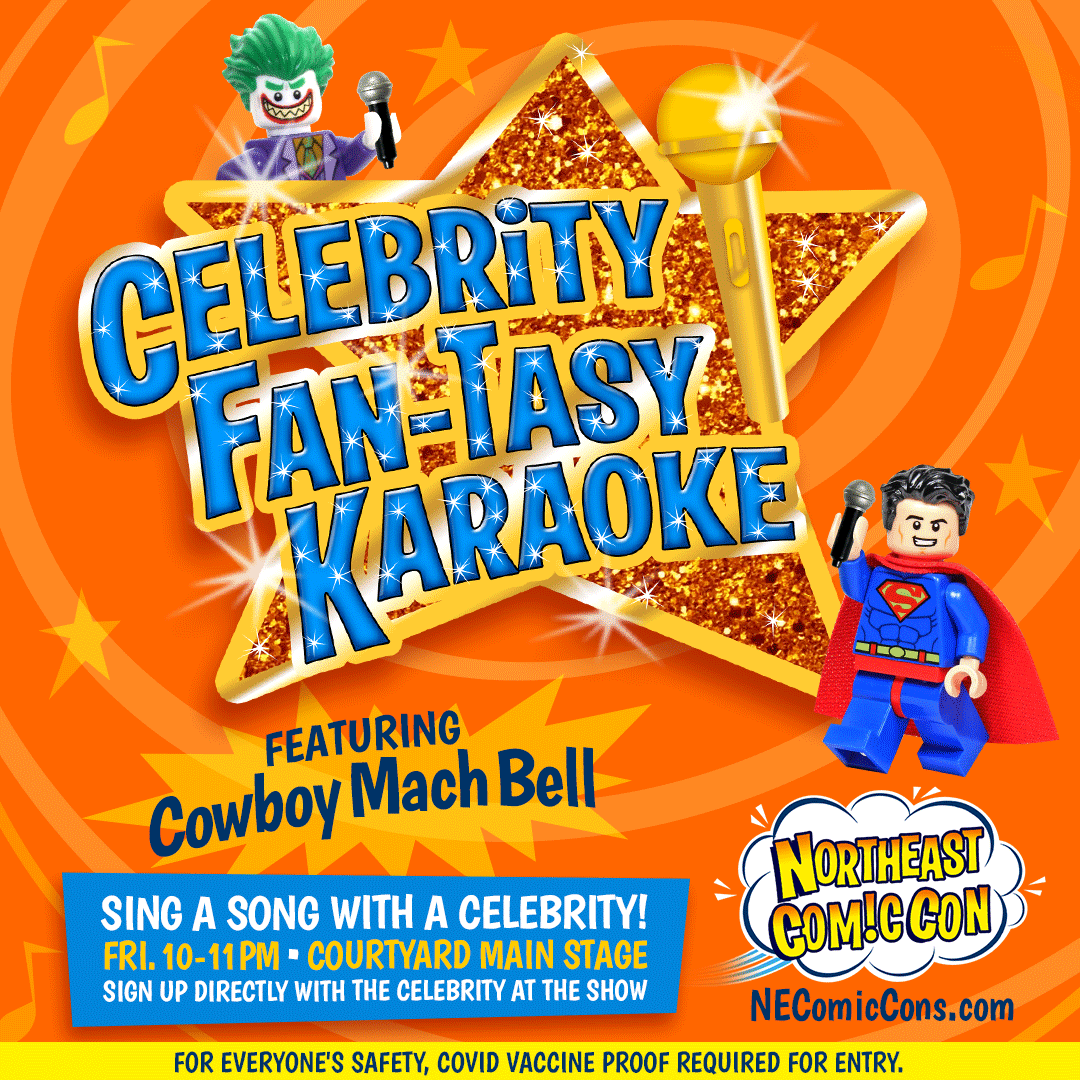 Fan-Tasy Karaoke with the Stars - Friday July 2nd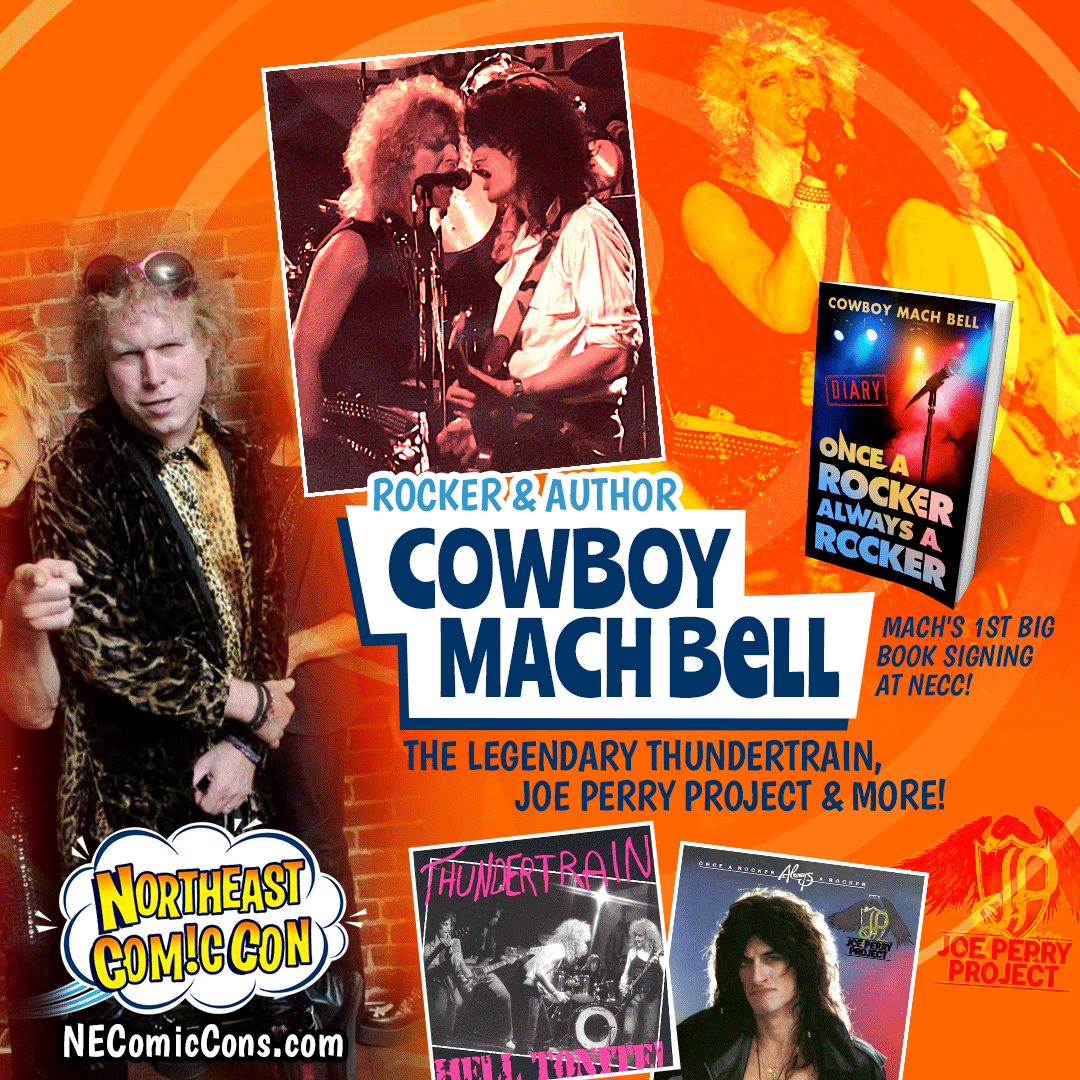 COWBOY MACH BELL
Fan-Tasy Karaoke with the Stars - Friday July 2nd

Fan-Tasy Karaoke experiences will be available with Francois Clemmons (Mr. Rogers), Nicholas Brendon (Buffy The Vampire Slayer), Lisa London (The PinUps) and "Cowboy Mach" Bell (Joe Perry Project) ... Friday Nov. 26 Concert AfterParty beginning at 8:00 pm, included in Friday and Weekend admission, with Karaoke starting at 10:00 pm ... each celebrity books their own Karaoke during the day on Friday at the show ... there may be fees to sing with a celebrity on stage ... Have your friends record you singing with a star. 10:00 - 11:00 pm - Hotel Courtyard

COWBOY MACH BELL

Sing with Cowboy Mach Bell during Celebrity Fan-Tasy Karaoke, Friday July 2 at 8:30 pm in the Courtyard. Sign up with Mach during the day Friday. Ohio-born rock singer "Cowboy" Mach Bell has recorded and toured extensively with numerous famed rock bands including: The Joe Perry Project, Wild Bunch, Last Man Standing, Mach 5 and the legendary Thundertrain. "Cowboy Mach Bell was a rock'n'roll singer who grew up in the next town over from me (Holliston, Massachusetts) and had a group called Thundertrain. He loved to rave and be in a band…" - Joe Perry Mach Bell made his bones fronting the glitter-rock turned proto-punk group Thundertrain. Appearing in 1977 on both the "Live at the Rat" album as well as their own "Teenage Suicide" lp, which featured their original song "Hot For Teacher," Thundertrain became regular headliners at Max's Kansas City and CBGB's in Manhattan, the Cleveland Agora, Boston's Paradise Theater and of course the Rat. "All leather and attitude, Thundertrain sat poised on the brink, a local hit album in its saddlebag and full support from the local media. Fronted by the irrepressible Mach Bell, who took no lip from anyone and took command at every venue, Thundertrain peddled and pummeled its metal ditties of thigh school love and lust with a basic two-guitar, bass and drums attack that also, surprisingly, featured a generous share of hooks to hang a hit on." - Carter Alan By 1982 Aerosmith lead guitarist-in-exile Joe Perry needed a new lead singer for his Joe Perry Project. Mach Bell (who Joe always calls "Cowboy") was selected for the job. Bell and Perry wrote seven of the original songs for the 1983 Joe Perry Project album Once a Rocker Always a Rocker (MCA/Geffen). As of last year, the recording has been re-released 18 times (and counting) in North America, Japan, Europe, Australia and Russia. The video for their song Black Velvet Pants appeared regularly on MTV and later on VH1 Classics. The Project performed hundreds of concerts all over Canada, South America and the United States, rocking packed houses at venues like the Bottom Line, El Mocambo, Hollywood Palace, New England Dragway, El Poliedro and the Agora Ballrooms. " Cowboy Mach, Joe Pet and Danny Hargrove. Without a doubt the wildest and most fun bunch of guys I ever played with. It was rocking as close to the edge as I will ever get. Truly a band of pirates." - Joe Perry In late 2019 Panther Rock Books published the long talked-about road diaries that were meticulously kept by Cowboy Mach Bell during his years as a member of the Joe Perry Project. In his book, the Cowboy shares his adventures and times spent with stars including Joan Jett, Stiv Bators, Ric Ocasek, Jim Dandy, Ric Nielsen, Steven Tyler and Bo Diddley. Mach's new book "Once a Rocker Always a Rocker: A Diary" has been met with immediate critical acclaim.