MARCH 13-15, 2020 Entertainment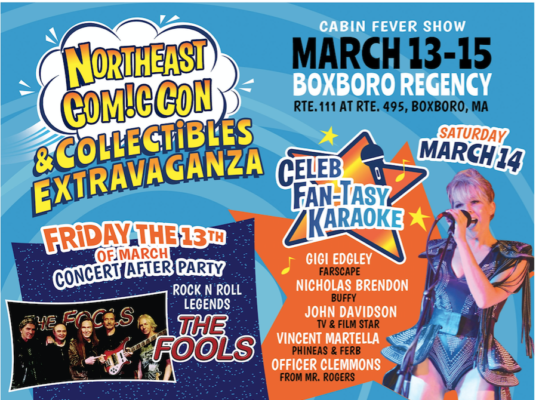 ---
MADAME TUSSAUD'S WAX MUSEUM MARVEL CHARACTERS
Madame Tussauds New York in the heart of Times Square is the only place with no ropes or barriers holding you back from living your best life with your favorite stars. Voted as one of New York's most unique attractions, Madame Tussauds invites you to experience famous moments with the world's most iconic musicians, A-list stars, sports legends, world leaders and more. With over 85,000 square feet of interactive entertainment, including our Mission: Undead, NYE in NYC, Marvel Super Heroes 4D Experience, the world famous attraction is bigger and better than ever. Don't forget to come play your part at our all-new experience, Madame Tussauds New York Presents Broadway! The immersive experience that catapults you into the magic of Broadway like never before in an interactive journey behind the scenes of iconic Broadway Shows! Stay tuned on new news for our all-new Marvel 4D Experience, coming April 2020! Come check out Madame Tussauds New York, the ultimate New York experience! Get your Social Media Photo OP Experiences at NorthEast ComicCon included FREE with admission using your own phone or camera. Characters will be announced soon.
DEEP LEARNING WITH MERRILL GRAMBELL
Will Brierly's Artificial Intelligence Bot Talk Show on stage with celebrities, featuring an animated host Merrill Grambrell interviewing from inside a Coffee Cup on a screen in real time ... having performed at our previous show, Merrill is back and will entertain at 4:00 pm on Saturday March 14 featuring Gigi Edgley (Farscape), Vincent Martella (Phineas & Ferb), The Amazing Kreskin and Nicholas Brendon. Don't miss it.
THE FOOLS In Concert
The Fools are well known in New England as the ultimate party rockers and for their radio hits "Life Sucks and Then You Die," "World Dance Party," "Night For Beautiful Girls" and "Psycho Chicken" ... performing on Friday the 13th (of March) as the Concert After Party included in Friday and Weekend Admission, $20 at door. With hit songs like: Psycho Chicken; Life Sucks…Then You Die; She Makes Me Feel Big; Doo Wah Diddy; It's a Night for Beautiful Girls; Bite It; I Won't Grow Up; World Dance Party and too many more to list here, The Fools deliver a non-stop powerhouse show. Great music performed by talented musicians with a hefty helping of comedy comes together in a unique charm that has been lighting up smiles for years. With extensive touring, radio and video success and millions of records sold, The Fools maintain their legendary status.
Mick Lawless and the Reckless Hearts
Opening for The Fools Friday the 13th (of March) starting at 8:00 pm. Power pop, rock n roll.
Mick Lawless and the Reckless Hearts
Opening for The Fools Friday the 13th (of March) starting at 8:00 pm. Power pop, rock n roll.
Fan-Tasy Karaoke with the Stars
Fan-Tasy Karaoke experiences are now available with Gigi Edgley, John Davidson, Nicholas Brendon, Vincent Martella "Cowboy Mach" Mark Bell and Francois Clemmons ... Saturday March 14th Concert AfterParty beginning at 8:00 pm, included in Saturday and Weekend admission ... each celebrity books their own Karaoke with fees to sing with the celebrity ... Book now ... limited availability ... single song or VIP package available at link
LAME GENIE In Concert
7:00 pm on Saturday March 14th as part of the Concert After Party, following the Celeb Fan-tasy Karaoke, included in Saturday and Weekend Admission, $20 at door,
Stand Up Comedy Battle Royale
Stand-Up Comedy Competition All Weekend – Preliminaries Daily $100 Daily Prize – $500 Weekend Prize You be Funny, Win My Money Winner chosen by AUDIENCE Response Only Currently Signed up to Compete: Mona Forgione, Ralphie Joyal, Cody Webb and George Newton have signed up already and someone is going home with the cash. If you think you are funnier than these folks, than Come Win the Money.
TIFFANY HULSE UkeAlong
Tiffany Hulse performs her original songs on Ukelele from her 13 CD releases ... Tiff presents our new, first ever UkeAlong at Northeast Comic Con! Everyone who brings a ukulele can stand on stage and play songs together for the audience. Bring your own Uke, wear your favorite costume (not required), and strum along to "Brown Eyed Girl", "Let it Be", "The Lion Sleeps Tonight", and "Free Fallin". No age restrictions! If you can play ukulele, you can be a part of our UkeAlong! Included with NECC ticket purchase! Ukuleles will not be provided, so please bring your own if you plan on participating. Sunday, March 15th at 1pm on the Main Stage. Visit www.TiffanyHulse.com/UkeAlong to learn the songs ahead of time.
BILL DIAMOND
Emmy Award winning artist and puppeteer, Bill Diamond brings a great array of photo op props for all ages, along with Puppets for play and for sale. Bill worked on The Dark Crystal, Little Shop of Horrors, Fraggle Rock, Monsters Inc, Farscape and many others.
ERIC BORNSTEIN
Behind the Mask Studio will be offering mask making classes, workshops and awesome masks for sale ... Eric also does commission
TC RESTANI
After Hours with T.C. Restani host T.C. Restani is a native of Atlantic City but he grew up in Boston. During his childhood, he spent summers working at his uncle's Las Vegas nightclub — The Damp Napkin, located on the city's outskirts. He met hundreds of celebrities and entertainers over the years before breaking into the business himself. Since launching the award winning late night talk show After Hours with T.C. Restani in 2003, T.C. has entertained national and global audiences with his quick wit, entertaining guests, movie stars, Playboy Playmates, musicians, comedians, and media personalities. Featuring a menagerie of delightful sidekicks from the Living Legend Col. Bull Montana and South Boston Jeff to the indelible Doctor McMurphy and T.C's eccentric Aunt Petunia, numerous aspiring entertainers, musical groups, and performers have appeared and made their mark on the way to stardom. After being named the best late night talk show an unprecedented five times, Restani Productions expanded their media empire to include successful podcasts, live rock concerts, and eclectic parties for a wide variety of audiences. Join the party and visit our website at tcrestani.com...and remember, this is After Hours and we never close!